DB0APD microwave beacon
| | |
| --- | --- |
| Location | Apolda |
| Locator | JO51SA |
| Above see level | 210 m |
| Above ground | 10 m |
| Band | 3cm |
| Frequency | 10368.852 MHz (GPS) |
| Antenna | 9 x slot (omni) |
| Polarization | Horizontal |
| Power | output 1 mW |
| Mode | A1A (~40 cpm) |
| Condition | on |
| | |
| --- | --- |
| Above see level | 210 m |
| Above ground | 10 m |
| Band | 13cm |
| Frequency | 2320.852 MHz (quarz) |
| Antenna | 9 x slot (omni) |
| Polarization | Horizontal |
| Power | output 20 mW |
| Mode | A1A (~40 cpm) |
| Condition | on |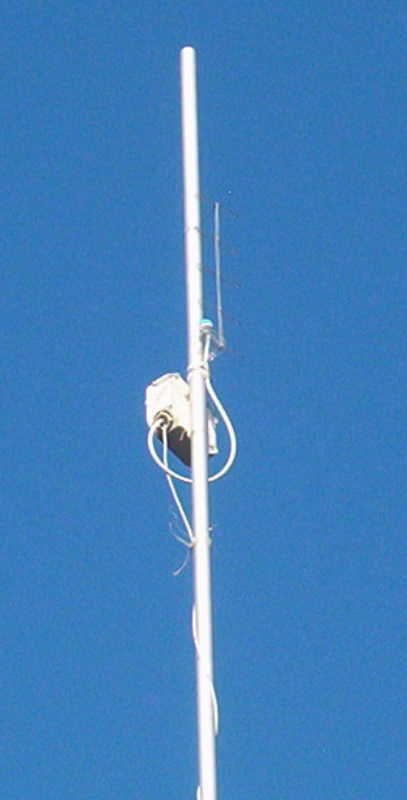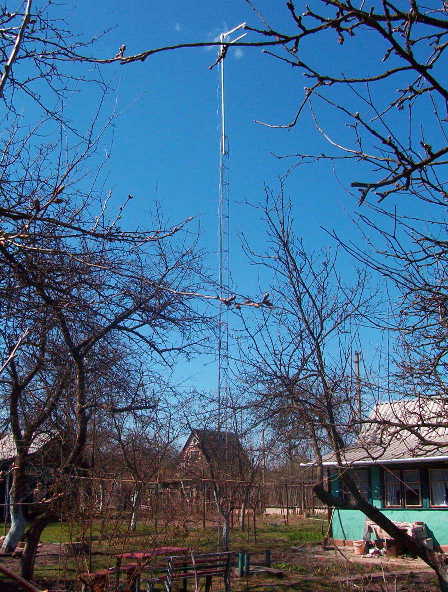 Picture of the new stacked dipole antenna and the tower with the old stacked YAGI antenna.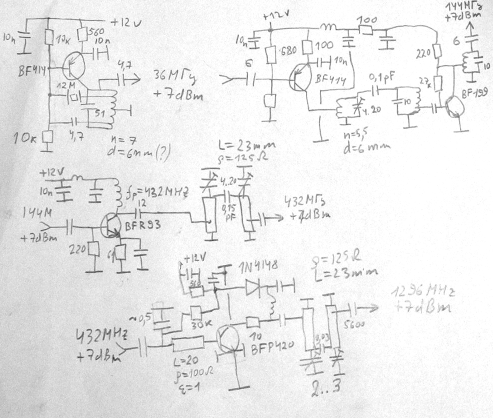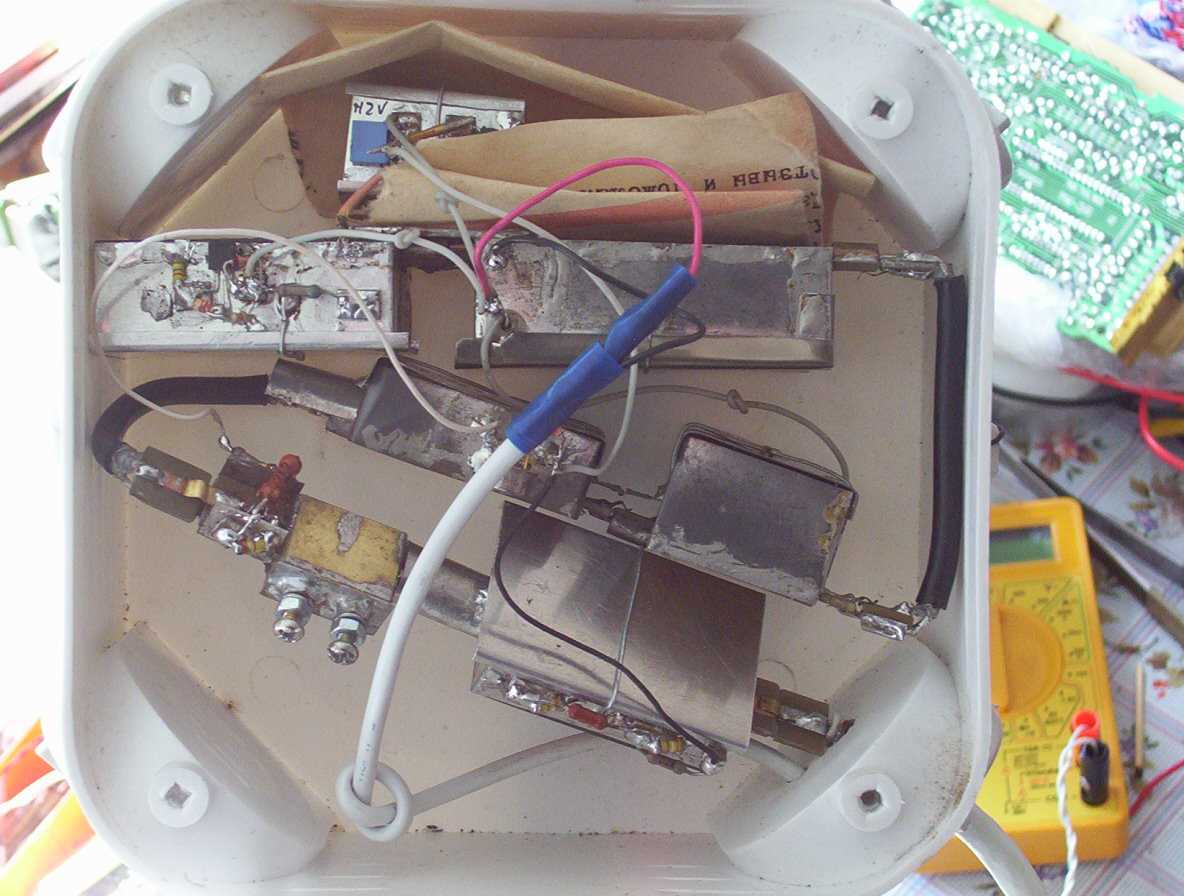 Exciter 1296 MHz +7 dBm


Exciter 2320 MHz +2 dBm


Approximate radiation pattern simulated by Radio Mobile software (level S6)

The beacon was first deployed in April 2007 and operates since that time almost continuously (as long as mains is there). It could be well heard in Kiev 50 m over ground (223m ASL). It was also possible to receive its signals in Fastov on the ground. A frequency deviation in the range ±5 kHz around the main frequency happen daily, since the equipment is located outdoors.

Further plans are to add 70cm band.

History
15.04.2007 Beginning of the opeation, power 10 mW, 2x7elYAGI @ 12m height
28.08.2007 The power supply was exchanged for one able to operate beginning from 100V mains. The YAGIs were replaced with a stacked dipole antenna. The heigth of the tower increased from 12 to 14.5 m. The output power (20mW) is now filtered using a double-helix filter.
28.12.2007 13cm beacon has been put in operation, inspite of problems with its manipulation and output. A probable reason is a significant cross-talk between the two beacons over the power supply. In the the 23 cm beacon, it is not only the final stage, but also the last multiplier, which are now keyed.
15.03.2008 The power supply of both the beacons is now stabilized on the tower, and the frequency of the 23cm beacon is shifted to 1296.853 MHz into the segment allocated for beacons by IARU. The output power of the 23cm beacon was increased to 125 mW, the 13cm beacon became fully operational with about 2mW output, to begin with.
18.07.2008 Record reports: 13cm: 38 km in KO40VE, 23cm 45km in KO40UD
28.12.2008 13cm beacon is off for a lengthy maintenance


If you hear the beacon signal, please report it in DX Cluster, on Beacon Report Page or directly to df4ae( at )darc.de. Information about the use of the beacon stimulates its development!

Last updated: 19.09.2020